Did You Know?
In the early days', pre- 1990, There were "strolling Ventriloquist" types. Usually at a charitable assembly such as the City Zoo for Halloween events designed for safe 'tricks or treats'.And then others that had been done was three contracted performances with other puppeteers for the Indianapolis Symphony's "A Yuletide Celebration" and performing the "Christmas Carrol".
Was 1993 when the addtion to the title of noer-puppets was added "the Eclectic Cabaret". A first ever show under that Billing was at Sister Evelyn's wedding. She had answered yes to an offer of performing a Puppet programme during the wedding's Meal and Cake cutting. Puppets' were made to resemble both Bride and Groom and as well show casing their talents as Opera Singer and Stage Actor. It was a smash hit!
Starting from 2,006 ,here in South Carolina, there was first an opportunity to design a FREE show on a Sunday at the Batesburg/Leesville High School's own Performing arts centre. A Local Baptist Church Organizer had put together a summit/convention of sorts and whilest the Ministers and audience conviened in the main auditorium, We had offered to make a short performance for the children gathering in the small classrooms. It was a short programme showcasing a few songs denoting happy feelings. Was well accepted. A surprise one month later by way of a cheque in the post of $100.00 saying thanks for a job well done.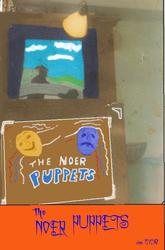 The Puppeteer
I Introduced this Puppet show then as a solo act.
If you have questions, Email.
Links to Other Sites